Calling them a techno boy band is fun and somewhat true, but it takes away from their investment in the whole music making process and the devotedness to their career. Yes, they are attractive boys playing music, but they are also professional and hardworking men. They weren't formed by a greedy manager but gathered by their love for music.
Felix Wagner, Aaron Röbig, and Kevin Kozicki were teenagers when they started playing with synths and music making software. Boyish curiosity kept them going for more than a decade and they turned out to be one of the most wanted electronic live acts.
They define Berlin, the capital of techno, as much as it defines them and is ready for a great party in Belgrade. Vojkan Bećir talked to FJAAK about gear, their plans, and lies that ignited their career!
When you started making music, you said that you weren't very influenced by the club culture or the techno scene. Can you tell me how much touring is affecting it nowadays?
It brings in a lot of crazy influences, but also a defined freshness, cause you gonna see a lot of different dance floors around the globe! Of course, sometimes we would love to be on that rave our friends throw just when we're on tour. But that's just part of our job 🙂
Can you tell us what's your favorite piece of hardware that you like to make music on these days?
Puh… a lot and it always changes and as we're three people who have separated studios next to a bigger one we share – it'a hard to say right now. We used the Sub 37 and the Moog Voyager XL a lot recently.
We know you always like getting new stuff to play with, but what is happening with the older toys? Are you hoarders or do you trade it off easily?
Haha, it depends! Some pieces are just your first grab and you may never be able to let it go, even though it might be dusty as fuck 😉 But we exchange a lot of stuff, try some out, sell it, buy a new one. Aaron once said he wants to try out all of the renowned synthesizers and effect boards and for Kevin and Felix, there is no other target too!
Is there a piece of hardware that you still can't afford?
There is a lot of stuff you would like to have because it's legendary. But next to the prices which you don't want to pay, there is another thing. They are rare! And not easy to get in good conditions (especially with an affordable price).
You said: "Dreams can give you a lot of power and speed up learning processes in some almost unbelievable ways!" What do you dream of nowadays?
A lot of nice time in the studio with nice people and good musicians!
A quiet beach!
And another new synthesizer 😉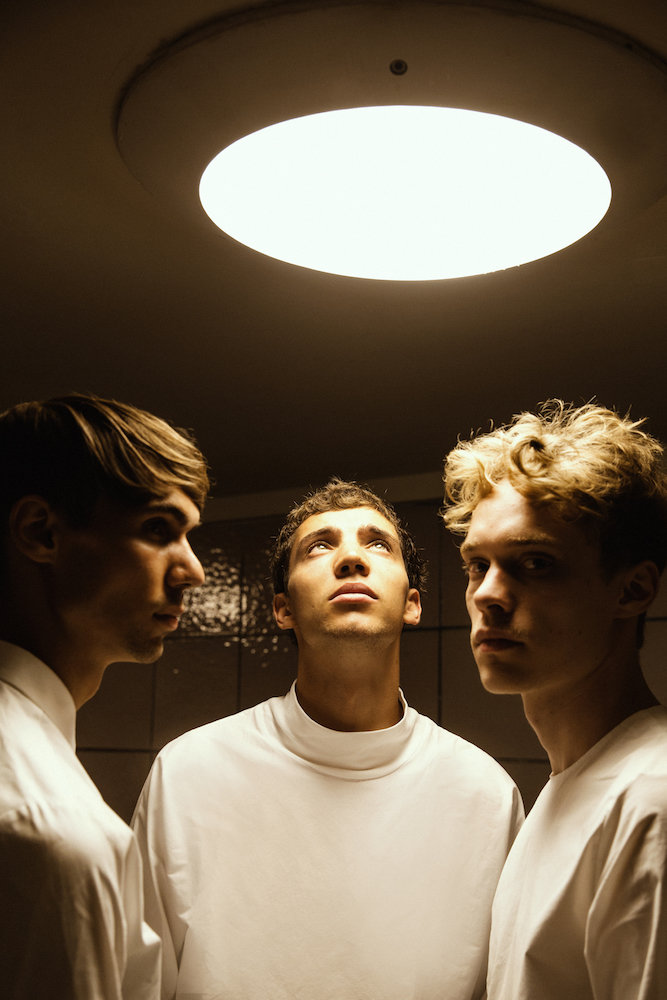 Is there another batch of music waiting to be released as an album in the near future? Or do you plan on releasing any tracks and remixes soon?
A new EP on our own imprint will follow soon!
And our second album gonna drop right afterward!
I think I remember one of you saying that you give more attention to highs and mids than to bass. Can you elaborate?
Somehow modern music is often listened to on speakers which have less/no low-end (mobile phones, portable speakers etc.)
You see Tijana T on the road regularly.  Did she tell you a bit about Belgrade?
Yes, we're looking forward to coming down! Can't wait to bring the sound to the people :-))
What kind of equipment are you bringing to Belgrade?
MPC, RYTM, OCTATRACK, 303, a small modular and so on. Sometimes we add or change equipment 🙂
Do you see anything else for yourselves in the future, besides making music and touring?
No
Is it really true that you lied to a promoter that you already played his club so he would book you? Did you lie in this interview?
Yes ! No 🙂
FJAAK brings their live set to Apgrade Weekend on 7. September in the iconic Kalemegdan Fortress!